TUESDAY 20th MARCH 2018
The talk for this evening had, unfortunately, to be rearranged at very short notice because of a family emergency involving the original speaker about her allotment in Poulton. The talk has been rearranged.
We are particularly fortunate to have as one of our members, Robert Nicholson, a man with a lifetime's
experience in the horticultural trade, and he stood in and gave an excellent talk about propagation in general, but particularly the taking of cuttings and grafting. It was clear right through the talk that Robert has huge enthusiasm for his subject.
TUESDAY 20th FEBRUARY 2018
A visit from Ruth Thurnhill, a garden historian and archaeologist, gave our audience the sort of information that ought to give us the ability to look at a garden as it was, perhaps, two or three hundred years ago.
The side of the more recent part of Lytham Hall, with a rather interesting
HORSE CHESTNUT (Aesculus hippocastanum) .
This tree is being largely supported by its own branches at five or more
different points. It's not so obvious when in leaf.
Photo: Steve Halliwell
It was a fascinating insight into the way one garden, the one at Lytham Hall, was developed under various stewardships over the centuries, and how the main entrance to the garden, no longer in existence, were intended primarily to impress the visitor.
Perhaps not the usual type of meeting we offer our audience, but food for thought in any event.
The next talk will be on Tuesday 20th March, when Sue Mantle of Poulton visits us to talk about her allotment and her experiences there on.
PLUS
It's also the evening of our Spring Show, so don't forget to bring your Society daffodils, and other entries as per the Schedule on the Spring Show Tab.
Click here.
TUESDAY 16th JANUARY 2018
The first talk of the new year was a change to the one that had been planned, due to illness.
However, the nature of the talk remained the same, i.e. Beekeeping.
Viki Cuthbertson, a Master Beekeeper, who has about sixty hives sited in various places around Preston, gave an insight into a beekeepers' life, and with so many hives to monitor, a rather busy one!
Viki also gave us a splendid account of the life-cycles of the various constituents of the hive, from the Queen to the Workers and the Drones, and back again.
Some of the facts we were made aware of seemed quite unbelievable, but there you are, there's nothing like the natural world for a surprise or two.
Attendance was a little reduced, probably on account of Beekeeping not being 'proper gardening', but those who missed it, missed a treat.
The next talk is on Tuesday 20th February, and will see Ruth Thurnhill talking about the Gardens at Lytham Hall which are currently undergoing restoration.
Visitors will be welcome.
***
TUESDAY 18th APRIL 2017
Tonight, we enjoyed a visit from Bob Sanderson, the husband of Cath, at Cath's Garden Plants at Heaves Hotel, Kendal. Having said that, the hotel is currently closed and seeking a new owner, and the garden centre is to move. It is not yet known where.
The intriguing title of Bob's talk was
"Thirty Plants you didn't know you needed until now"
so it was sure to be an interesting evening.
The following is a list of those plants:
1. Lonicera 'Winter Beauty'
2. Corydalis solida 'Beth Evens'
3. Iris lazica
4. Uvularia grandiflora
5. Hepatica nobilis
6. Erythronium dens canis
7. Prunus serrula
8. Corydalis 'Pere David'
9. Geranium Rosanne
10. Erodium manascavii
11. Diascia vigilis
12. Dierama dracomontanum
13. Helenium 'Sahin's Early Flowerer'
14. Clematis 'Cassandra'
15. Agapanthus 'Torbay'
16. Lonicera 'Graham Thomas'
17. Watsonia pillansii
18. Gladiolus papilio 'Ruby'
19. Kirengeshoma
20. Chrysanthemum 'Mary Stoker'
21. Aruncus aethusifolius
22. Tricyrtis 'Toad Lily'
23. Aster latiflorus 'Horizontalis'
24. Boltonia asteroids
25. Calamagrostis (Grass species)
26. Cornus 'Midwinter Fire'
27. Hydrangea paniculata 'Phantom'
28. Oxalis semiloba
29. Euonymus alatus compactus
30. Aconitum fischeri
Those should keep you going for a while!!
TUESDAY 21st MARCH 2017
Another first on this day, in the form of vis
iting speaker, Sue Jefferies, a trained and qualified Horticulturist and Teacher, whose living is earned via Courses and Workshops, including in schools.
On this occasion she spoke about plant propagation and plant division.
Sue attracted our largest audience for some time, 54, of which 5 were visitors. It was a good choice of talk for a first-time visitor, although there was the additional attraction of it being the night of our Spring Daffodil Show.
Sue Jefferies talks about her preferences in potting composts, and her methods employed
when sowing a smaller number of seeds of an assortment of varieties of plants.
TUESDAY 15th NOVEMBER 2016
The meeting on the 15th November saw the first visit to the Society of Ian and Sheila Lowe of High Park Nurseries, Southport. The title for the evening was "A Fun Christmas with Ian", so we suspected we may see a few wreaths and other Christmas decorations.
We thought Ian had arrived a little over-dressed, until the bow-tie began flashing.








What we did get, in addition to a demonstration of how to make your own wreath and table decoration, was the better part of 80 minutes of off-the-cuff humour from both the speaker and the floor.
Like a rabbit out of the hat....voila! The finished article from moss base to final 'pick'.
Ian's second demonstration was for a table decoration, from plastic bowl and oasis insert, using many of the same conifer embellishments that were used in the wreath. The finishing touches were made by adding fresh flowers (possibly a last minute addition), and standing the whole on top of a glass bowl.
However, this wasn't any old bowl! With a strong resemblance to a goldfish bowl, it was first filled with Quality Street toffees (other brands are, of course, available), and a coiled up, battery-powered set of fairy-lights.
And there you have it, folks!


The finished wreath (the orange slices were dried in a slightly heated oven for 6 hours.
Well, that's one way to keep the children's fingers out of the sweetie bowl. On the other hand...........................
****
TUESDAY 20th SEPTEMBER 2016
A visit by Radio Lancashire celebrity gardener, Bill Blackledge, recently awarded the M.B.E. in recognition of his services to Britain in Bloom, is always eagerly anticipated, and the above date was one of those occasions.
The talk was titled "Winter and Spring Bulbs", but Bill extended his talk by including several other plants that can be used in conjunction with bulbs to create a display. Even newly planted daffodil bulbs planted in September can be overplanted with Pansies or Violas, with the bulbs finding their way through to succeeed them in early spring.
Bill Blackledge with a completed pot or hanging basket. This container
could be used as either with the addition of plastic or chain suspensions.
There's no reason why this arrangement can't be under-planted with,
for example, Tete-a-Tete dwarf daffodils.
One plant used in the hanging basket / pot, was a Gaultheria, a member of the Ericacea
family with flowers that are reminiscent of heath. The flowers are succeeded by
berries in a variety of hues, and altogether make a very useful and attractive small shrub.
*
Hyacinths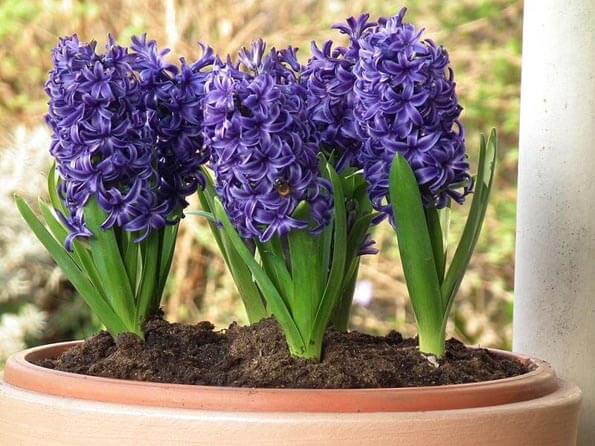 To avoid the not uncommon problem of differing sizes of Hyacinths in
a pot, Bill suggested planting bulbs singly, and then selecting those with equal growth,
removing them carefully from the pot, and replanting in a larger pot along
with others.
Flowers which later begin to lean and flop, can be assisted by the insertion of a very thin piece
of stiff wire through the tip of the flower, down the stem, and into the bulb.
Bill did warn that there may be a bit of squealing heard, but to take no notice of it!!
Pre-treated bulbs will be in flower within 9 weeks, therefore, planted mid to late September, they should be in flower for Christmas.
*
Next month, it will be the A.G.M., hopefully a brief affair, followed by Chairman Steve Halliwell's
presentaion of "From the Hornbeam to the Handkerchief Tree". This is a celebration of
some of the trees to be seen in the countryside and elsewhere, and includes a hope that
we should all look at trees in a different way.
If only they could talk!